Nikon Fluor 40 0.85 160/0.11-0.23 Microscope Objective Lens 20.25mm 25084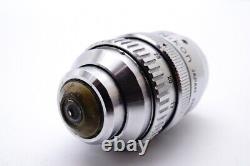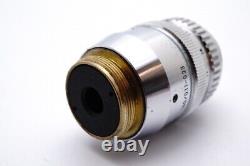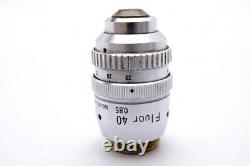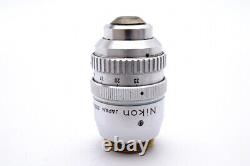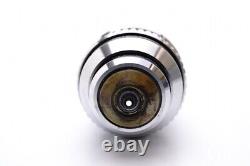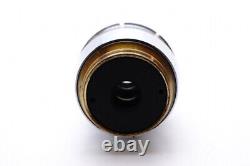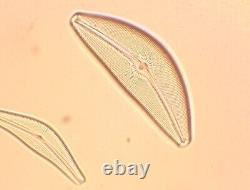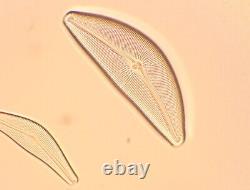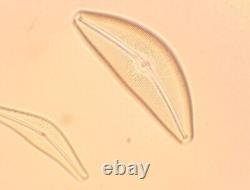 Appearance:Please check the photo carefully! The safety spring is broken. If you push it with a strong force, the spring will sink, but it will not return to its original state.
It will not return unless you push it back with a strong force from behind. However, as you can see in the last picture, observation is possible.
In short, if you have observation technology that does not hit the slide, it is an objective lens that will not cause any problems. The movement of the cover glass adjustment ring is smooth. I made observations with slide glass thicknesses of 0.17, 0.11, and 0.23, and left photographs. Please check the description of the Optical system while looking at the uploaded photos. There is no black sticker on the tip of the lens.
In the case of fluorescence observation, it is described that it affects imaging. Please judge the performance of the lens by the observed photograph. I checked it with the naked eye with a strong light, but there is no balsam peeling. I checked it with the naked eye under a strong light, and there is no haze inside the lens. I checked it with the naked eye under strong light, and there is no fungus inside the lens. I checked it with the naked eye with a strong light, but there are no visible scratches. Please check the photo carefully! Shown on the photo is everything. Anything not shown in the picture is not included.
Can be bundled with other products. Items below for details on bundling.
Listed lens types / long-neck objective lenses. Please make sure that the microscope is for the LB (Long Barrel) series (1X to 100X oil) with a focal length of 45 mm and a mechanical barrel length of 160 mm before purchasing. Objectives and microscope brands can be used even if they are not the same. This means, for example, that Olympus objectives can be attached to Nikon, Zeiss, Leica, Leitz, etc microscopes. Incompatible Microscope / Please check. If you have a microscope with a short-neck objective lens with a focal length of 36.65 mm or an objective lens that is compatible with infinity correction, you can attach it to the nosepiece, but you cannot observe it.
Tools used to test objective lenses. Phase Contrast Capacitor 1.25 Phase Contrast Condenser. MTV-3, Relay Lens NFK 2.5X LD 125. USB microscope camera 18 million pixels.
About the diatom preparation used in the objective lens test. It is mainly tested with a diatom preparation developed for performance testing of dry objective lenses and for testing microscope illumination.
This diatom preparation is tested with an extremely reliable diatom test plate that is also used by major optical equipment manufacturers. The 12-13 putamen is mounted around diatoms, which are easy to use for lens testing. The main species are Nitzschia, Pleurosigma, Stauroneis, Pinnularia, etc. It supports a wide range from low magnification objective lenses to oil immersion areas.
It also supports the limit performance check of high magnification objective lenses with a numerical aperture of 1.4. Since this product is mounted with an encapsulant with a slightly low refractive index, it has a low contrast and has been tested with a preparation that is ideal for training in speculum technology. Diatoms are mounted with the utmost care using a blue plate slide glass (0.9 mm thick) with few surface defects and a cover glass of 0.170 ± 0.005 mm. About the quality of the diatom slide used.
When examining traditional preparations from an optical point of view, the thickness of the cover glass, the thickness of the mounting medium, the focus shift due to the difference in the height of the diatom, and the foreign matter and devitrification of the mounting medium make it unusable as a reference for the differential interference method. It is also true that there were many problems such as It goes without saying that it is desirable to supply inspection plates of uniform optical quality, as inspection plates cannot be inspected correctly if they have defects.
After examining these problems, we developed a method of arranging diatoms directly on the surface of the cover glass and encapsulating them directly, making it possible to manufacture a completely new quality test plate. We test the quality of the objective lens by observing it under the above environment.
I observed it with the lens for sale and left it in the image. Focuses on the cuticle diatom.
If you don't know the accuracy of the photo I uploaded. Scientific name: Try searching on Google for Cymbella. You can see that it is a more accurate observation photo than most of Cymbella that comes up a lot on Google. When I save the first observed image, I save it as JPEG.
So when you look at it in person, it looks sharper than the image you see uploaded in the product description. For buyers, confirmation points of the objective lens. If the image is actually bad when the product arrives, I would like to ask you to confirm. Try rotating the objective lens from the nosepiece. Try moving the slide slightly.
What about dirt not only on the front side of the slide but also on the back side? Is your microscope's viewfinder dirty with dust? Are the capacitors too low? If the position of the condenser is low, various dirt can be seen.
Position the condenser as high as possible. If it is raised too high, it will not be in focus and the contrast will be lowered or unclear. The smudges in the image may be on the field lens or on the internal mirrors below the field lens.
Do you regularly maintain your microscope? More to the point, have you seen the instruction manual for the microscope you have? There are many other things I would like you to check. Is it because there is not enough light? If the amount of light is small, dirt is easily reflected.
Is the aperture setting wrong? Please check these and send me a message regarding the condition of the lens. Even though I'm strictly referring to. This is because the way an image is captured is completely different depending on the difference in observation techniques, knowledge, and experience.
Depending on the equipment used for observation, the image will look different. In fact, I was able to observe and shoot neatly to some extent as shown in the photos I posted. Buyers are purchasing after confirming the product description. Even if you send me a message, please be gentle and give me a valid message. There is simply no reason or grounds for it, and the image quality is worse than you expected, so returning it will also be a problem.
I think you will continue to have more trouble. In short, I want you to find the reason why you cannot observe satisfactorily. We would like to sell our products to our customers and other customers in a stable manner. Thank you for reading this far. Arrive later than DHL EXPRESS, but the price is reasonable.
DHL EXPRESS can be delivered anywhere in the world in 2-7 days. A signature is required to receive the item. And it's very fast. It takes 2 to 3 days in America. (United States of America, USA).
We are offering Japan Post. The arrival period of Japan Post.
If the world is in pandemic chaos, it will take about one week to two months. Depending on the situation, it may take longer for the product to arrive. Other countries such as China, Korea, Asia, Europe, Middle East, North America South America, Africa etc. Please confirm the address before purchasing.
Online Payments, Credit Cards, Debit Cards, Gift Cards, Apple Pay, Google Pay, And More. Hello, Our Company will provide courteous and responsive service. Large Selection of Goods and Additionally Listing more than Hundreds Items Every Month. Perfect Inspection by Japanese Staff with High Skills.
You will need to prepare the Return label by yourself. I'm sorry to trouble you. Thank you for your understanding and cooperation. Please give me a message first.
Let's solve the problem together. We believe that there is something we can do for you from a distant country, And We will work to satisfy you so that we can resolve your complaint at any time. This item is in the category "Business & Industrial\Healthcare, Lab & Dental\Medical/Lab Equipment Attachments & Accessories\Microscope Parts & Accessories\Microscope Objectives".
The seller is "microscope-cameralovelove" and is located in this country: JP. This item can be shipped worldwide.
MPN: 330910
Brand: Nikon