AmScope PF10X-INF 10X Infinity Plan Fluor Objective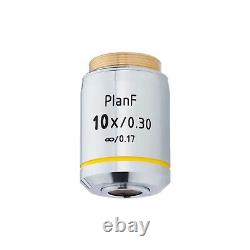 10X Infinity-corrected Plan Fluor Objective Lens. Ideal for fluorescence microscopy and photomicrography.
This is a 10X plan fluor (semi-apochromatic) objective lens with a high 0.30 NA. Designed for infinity-corrected microscopes with RMS thread, this lens has improved color-correction and resolution compared to achromatic lenses. With its improved optics, this lens is ideally suited for fluorescence microscopy and photomicrography.
Thread Size: RMS 20.32mm. We offer 30 days from the date of receipt (verified by tracking information) to request a return on a unit.
We appreciate your patience and understand everyone has a critical need for their unit, and do everything we can to ensure that these requests are handled as quickly as possible. Include your order number, reason for return, and if any pictures are required for your claim, please include them also.
Follow the issued instructions, and once received, we will process the item in, and check to ensure everything is there. Processing is done first come, first serve, and can take between 1-4 weeks to process (depending on how many requests we currently have in queue).
We thank you for your patience while we work on your request.