Wild Heerbrugg M20 Microscope with Phase Contrast, 6 Objective Lenses & 6V PSU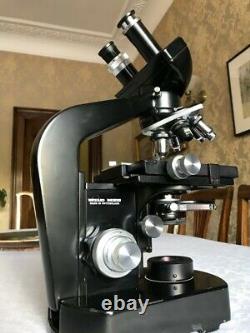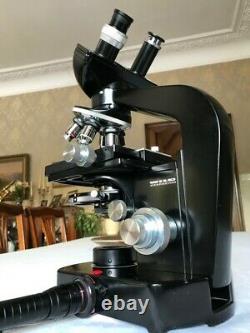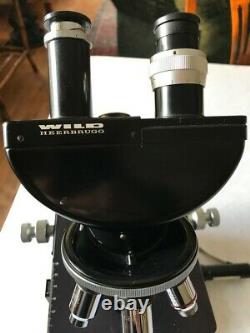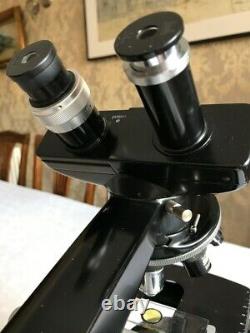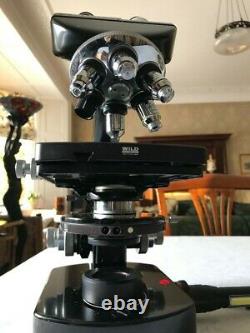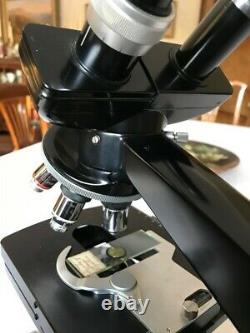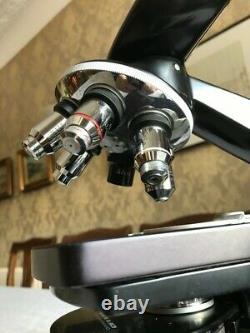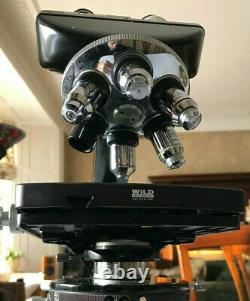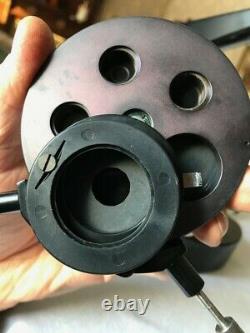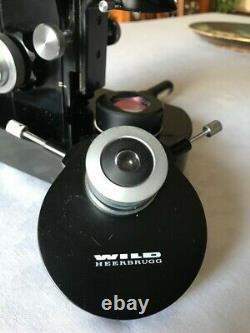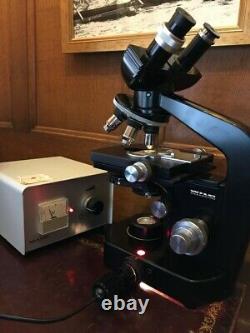 Here we have a really interesting and very well equipped example of a top-quality Swiss-made Wild Heerbrugg M20 vintage binocular microscope. This is a well-specified example, probably dating from around the late 1980s. Wild are now part of the Leica optical company.
The condition is really very good and the instrument has recently been through a check-over and lubrication and is currently fitted with a re-chargeable LED illuminator that's been used for testing purposes. I've also just added a Wild MTR 6V power supply unit complete with bulb carrier and 6V 15W incandescent bulb, therefore giving two useful lighting options. Turning to the main technical details of this quality vintage M20 binocular microscope set-up, we have.
1 A rotatable (full 360 degrees) binocular eyepiece unit that's adjustable for both focus and eyepiece separation and is fitted with two Wild 10x magnification eyepieces. One of the eyepieces also has an internal graticule in the form of a reference grid with alpha-numeric reference axes. This graticule can be removed if required.
2 A coarse focus system that moves the main microscope frame in a vertical plane, with its concentric controls at the base of the frame. There is a reasonably smooth action through the twin-sided thumb-wheels - travel and focus are both good and there's a mechanism for tightening the coarse focus controls to prevent slippage of the frame. Note that the frame is not designed to tilt. Fine focus adjustment essentially works within the main focus adjustment when smaller inputs are made via the concentric fine focus thumb-wheels and this control moves the stage in a vertical plane. 3 Six quality objective lenses all by Wild with a usable selection of progressive magnification and a lovely rotating 6-way turret in chrome on a dovetail mount, which clicks into place positively as each objective is rotated into its viewing position.
The objective lenses are as follows. Wild Low Power - 4x.
Wild - 10x Phase Wild - 40x Fluotar Phase. Wild - 100x Fluotar Phase (oil immersion) - not tested with oil Wild - 100x Phase (oil immersion) - not tested with oil. (The effective overall magnification therefore ranges from 40x to 1,000x when using oil immersion). 4 The specimen stage is fully mechanical with twin concentric thumb-wheel x-axis and y-axis controls located on both sides of the stage, plus there's a slide holder mechanism for holding samples in place during viewing sessions, which has a movable armature. The stage mechanisms have been lubricated and run nice and smoothly.
There's also very little wear to the stage surface indicating light usage. 5 Below-stage there is a Wild Phase Contrast condenser on a height adjustable rack and pinion mount, with centering thumb-screws, swing-out filter holder and a working iris for controlling lighting levels.
There are four different phase annular settings and a separate bright-field setting. Phase Contrast is a specialist microscopy technique enabling details to be identified in otherwise translucent biological specimens.
6 Sample illumination is provided via a sub-stage illuminator system. It was fitted with a removable re-chargeable LED light source, which worked well during testing, producing a bright white light of adequate intensity to illuminate translucent biological specimens. The sub-stage illuminator also has the benefit of a period Wild incandescent system being a MTR28 6V power supply unit together with bulb carrier and 6V 15W bulb, with both options giving pretty good sample illumination. The vintage Wild illuminator works quite well and has a nice analogue voltage indicator and emits a modest period mains hum when powered up. In summary, this is a comprehensively equipped technical binocular microscope from well-known Swiss optical firm Wild Heerbrugg, together with a really good Phase Contrast capability, which overall makes quite a nice microscopy set-up.
It may therefore appeal to both specialist collectors of technical equipment and of course those seeking a Wild M20 model for its technical capabilities and imposing retro look, which could also make it a spectacular display piece. It's supplied with a superb range of Wild objective lenses and is fitted with a mechanical stage which is a must for high-magnification use; the original Wild lenses making an amazing sight on the 6-way chrome turret. It's essentially usable out of the box with its current lighting solutions and a bit of time invested in getting to know its various functions and controls. This microscope equipment will be partially dismantled and very well packaged for transport.
It will be dispatched by insured courier upon receipt of cleared funds. Thanks for looking - please check out my other listings if you get a chance. The item "Wild Heerbrugg M20 Microscope with Phase Contrast, 6 Objective Lenses & 6V PSU" is in sale since Saturday, March 6, 2021. This item is in the category "Collectables\Scientific Collectables\Scientific Instruments\Microscopes".
The seller is "arcboutant" and is located in Glasgow. This item can be shipped worldwide.
Period: 1951 to Present
Modified Item: No
Country/Region of Manufacture: Switzerland
Material: Steel
Type: Scientific Instruments
Sub-Type: Microscopes