Carl Zeiss Standard microscope for fluoroscopy. WITHOUT OBJECTIVE LENSES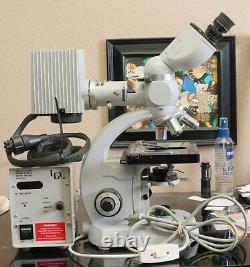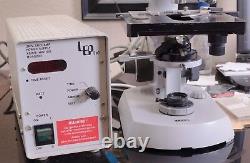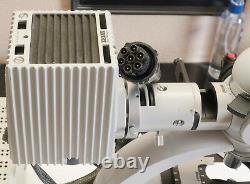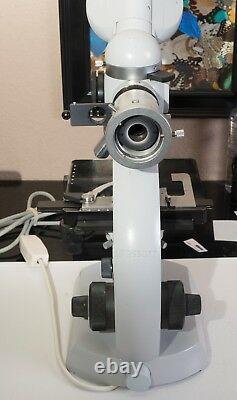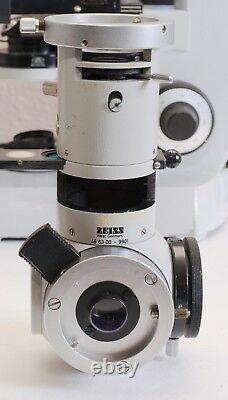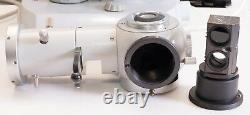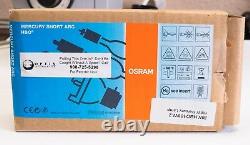 NOTE THAT OBJECTIVE LENSES ARE NOT INCLUDED IN THIS PACKAGE. IF YOU NEED THEM I CAN SUPPLY THEM FOR A DIFFERENT PRICE. THERE ARE OBJECTIVE LENSES SEEN IN THE PICTURES BUT THEY ARE NOT INCLUDED AT THIS PRICE. I have assembled this very high quality system with the platform of a Carl Zeiss Standard microscope. This microscope which came out in 1950 is a classic among all microscopes. It was manufactured with the foresight of having accessories which could enable polarization microscopy as well a fluorescence microscopy. In addition to the Standard Microscope the following accessories are included: a CZ fluoro-condenser #46-63-01-9901 and #46-63-00-9901 with the filter cube CZ#46-63-01-9901 and an installed UV cutoff filter (365 nanometers), a CZ lamp-housing #46-72-59-9901, a Universal arc-lamp power supply XBO75, HBO100 watts #990022, a brand new 100 watt Osram bulb model BW. Additionally I have included a 2 piece polarization setup which includes one linear polarizer installed in the slider that is part of the fluoro-condenser and a second linear polarizer which fits perfectly on the top of the field illuminator. Within the tube of the condenser there is a slider which has a cooling filter installed in it so you don't fry your specimen. There is a fully functioning lamp in the base of the microscope which is bright enough for use of a 100x objective lens.
Also included are 2 microscope stages. One is the original stage supplied on this microscope and the second stage which I have mounted on the scope is a Carl Zeiss 47-34-15-99-01 stage from a Zeiss Axioscope which is quite a bit larger than the standard stage and it has calibrations for the X and Y directions which is not found on the standard stage. I have included two ocular lenses. They are Leitz Periplan GF 10x/20 which are great oculars (I own 3 Leitz microscopes).
AGAIN THERE ARE NO OBJECTIVE LENSES INCLUDED WITH THIS PACKAGE. NOW FOR THE ONLY NEGATIVE NEWS. I was naieve to think I could change the bulb myself and found out that I don't have the necessary knowledge or tools. I was able to get the new bulb into the housing but it wont illuminate so I did something wrong.
When I decided to take the bulb out I have been unable to open it to get the bulb out. Since there are no qualified microscope technicians in the Albuquerque area where I live it would require me to send the housing off to Phoenix or Denver which are both about 8 hours drive from me. The power supply is in great condition and works flawlessly. One of caffeine and the other of Resorcinol and Urea.
It will be fully insured. The item "Carl Zeiss Standard microscope for fluoroscopy. WITHOUT OBJECTIVE LENSES" is in sale since Saturday, January 16, 2021.
This item is in the category "Collectibles\Science & Medicine (1930-Now)\Scientific Instruments\Microscopes, Lab Equipment". The seller is "yodalovedme" and is located in Rio Rancho, New Mexico. This item can be shipped worldwide.
Country/Region of Manufacture: Germany